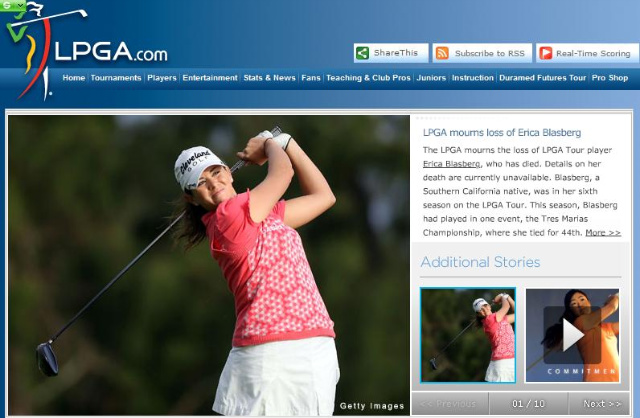 미국 프로골퍼 에리카 블래스버그가 25살의 젊은 나이로 사망했다고 한다.
지난 11일(현지시간) 블래스버그가 미국 라스베가스 교외에서 숨친채 발견됐다고 한다.
구체적인 사인은 밝혀지지 않고 있으며, 경찰이 조사중인 것으로 알려졌다.
그녀는 애리조나대학 재학시절 2년동안 6번의 우승을 차지해 2005년에 프로에 데뷔한 선수다.
May 10, 2010 - The LPGA today mourns the loss of LPGA Tour player
Erica Blasberg
, who has died. Details on her death are currently unavailable.
Blasberg, a Southern California native, was in her sixth season on the LPGA Tour. A former junior golf standout, the 25-year-old was a two-time All-American from 2003-04, 2003 NCAA Freshman of the Year and 2003 Pac-10 Player of the Year while at University of Arizona.
She turned professional in June of 2004 and won once on the Duramed FUTURES Tour before qualifying for the LPGA Tour in 2005. Her best year on Tour was 2008 when she earned a career-best tie for eighth at the SBS Open in Hawaii and over $113,000 in winnings. This season, Blasberg had played in one event, the Tres Marias Championship, where she tied for 44th.
Statement from Erica Blasberg's agent, Chase Callahan of REP 1 Sports Group:
We are devastated to learn of the passing of Erica Blasberg. To most of the world, Erica was known as a professional golfer, but she was more than that. She was a loving daughter to her parents and a compassionate and loyal friend. Erica had a good heart, was extremely kind and very thankful for what she had in her life. She lived out her dream of playing professional golf on the highest level on the LPGA Tour, allowing her to help inspire others. We are proud of Erica for everything she accomplished. This is a painful loss, we feel it in our hearts and we will miss her. Erica would want those close to her to celebrate the life she lived. We ask that you keep Erica and her family in your prayers.
출처:
WWW.LPGA.COM