이소룡과 그의 부모
이소룡의 유년시절
이소룡과 아내, 그리고 아들
아들에게 중국무술을 지도하는 모습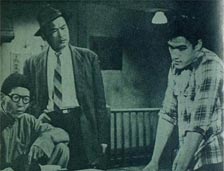 이소룡의 첫 영화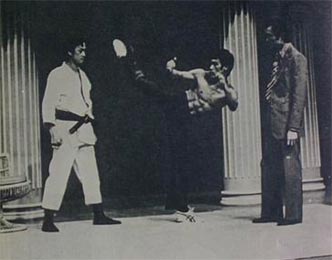 유년시절
Lee Jun an was born in the hour of the dragon, between 6–8 a.m., in the Year of the Dragon according to the Chinese zodiac calendar, November 27, 1940, at the Chinese Hospital in San Francisco's Chinatown in the United States. His father, Lee Hoi-Chuen (李海泉), was Chinese, and his Catholic mother, Grace (何愛瑜), was of Chinese and German ancestry.Lee and his parents returned to Hong Kong when he was three months old. He was a citizen of the United States by birth and did not hold any other citizenships.
교육과 가족
At age 12, Lee entered La Salle College and later he attended St. Francis Xavier's College. In 1959, at the age of 18, Lee got into a fight and badly beat his opponent, getting into trouble with the police. His father became concerned about young Bruce's safety, and as a result, he and his wife decided to send Bruce to the United States to live with an old friend of his father's. Lee left with $100 in his pocket and the titles of 1958 Boxing Champion and the Crown Colony Cha Cha Champion of Hong Kong. After living in San Francisco, he moved to Seattle to work for Ruby Chow, another friend of his father's. In 1959, Lee completed his high school education in Seattle and received his diploma from Edison Technical School. He enrolled at the University of Washington and studied philosophy, drama, and psychology, among other subjects. It was at the University of Washington that he met his future wife Linda Emery, whom he would marry in 1964.
He had two children with Linda, Brandon Lee (1965–1993) and Shannon Lee (1969-). Brandon, who also became an actor like his father, died in an accident during the filming of The Crow in 1993. Shannon Lee also became an actress and appeared in some low-budget films starting in the mid 1990s, but has since quit acting

활동경력


Lee's father Hoi-Chuen was a famous Cantonese Opera star. Thus, through his father, Bruce was introduced into films at a very young age and appeared in several short black-and-white films as a child. Lee had his first role as a baby who was carried onto the stage. By the time he was 18, he had appeared in twenty films.
While in the United States from 1958–1964, Lee abandoned thoughts of a film career in favor of pursuing martial arts. However, after Lee's high-profile martial arts demonstration at the 1964 Long Beach Karate Tournament, he was seen by some of the nation's most proficient martial artists—as well as the hairdresser of Batman producer William Dozier. Dozier soon invited Lee for an audition, where Lee so impressed the producers with his lightning-fast moves that he earned the role of Kato alongside Van Williams in the TV series The Green Hornet. The show lasted just one season, from 1966 to 1967. Lee also played Kato in three crossover episodes of Batman. This was followed by guest appearances in a host of television series, including Ironside (1967) and Here Come the Brides (1969).
In 1969, Lee made a brief appearance in his first American film Marlowe where he played a henchman hired to intimidate private detective Philip Marlowe (played by James Garner) by smashing up his office with leaping kicks and flashing punches, only to later accidentally jump off a tall building while trying to kick Marlowe off. In 1971, Lee appeared in four episodes of the television series Longstreet as the martial arts instructor of the title character Mike Longstreet (played by James Franciscus). Bruce would later pitch a television series of his own tentatively titled The Warrior. Allegedly, Lee's concept was retooled and renamed Kung Fu, but if so, Warner Bros. gave Lee no credit. The role of the Shaolin monk in the Wild West, known to have been coveted by Bruce, was awarded to non-martial artist David Carradine, purportedly because of the studio's belief that a Chinese leading man would not be embraced by the American public.
Not happy with his supporting roles in the U.S., Lee returned to Hong Kong and was offered a film contract by legendary director Raymond Chow to star in films produced by his production company Golden Harvest. Lee played his first leading role in The Big Boss (1971) which proved an enormous box office success across Asia and catapulted him to stardom. He soon followed up his success with two more huge box office successes: Fist of Fury (1972) and Way of the Dragon (1972). For Way of the Dragon, he took complete control of the film's production as the writer, director, star, and choreographer of the fight scenes. In 1964, at a demonstration in Long Beach, California, Lee had met karate champion Chuck Norris. In Way of the Dragon Lee introduced Norris to moviegoers as his opponent in the final death fight at the Colosseum in Rome, today considered one of Lee's most legendary fight scenes.
In 1973, Lee played the lead role in Enter the Dragon, the first film to be produced jointly by Golden Harvest and Warner Bros. This film would skyrocket Lee to fame in the U.S. and Europe. However, only a few months after the film's completion and three weeks before its release, the supremely fit Lee mysteriously died. Enter the Dragon would go on to become one of the year's highest grossing films and cemented Lee as a martial arts legend. It was made for US$850,000 in 1973 (equivalent to $4 million adjusted for inflation as of 2007). To date, Enter the Dragon has grossed over $200 million worldwide. The movie sparked a brief fad in the martial-arts epitomized in songs like "Kung Fu Fighting" and TV shows like Kung Fu.
Robert Clouse, the director of Enter the Dragon, attempted to finish Lee's incomplete film Game of Death which Lee was also set to write and direct. Lee had shot over forty minutes of footage for Game of Death before shooting was stopped to allow him to work on Enter the Dragon. Kareem Abdul-Jabbar, a student of Lee, also appeared in the film, which culminates in Lee's character, Billy Lo (clad in the now-famous yellow track suit) taking on the 7'2" basketball player in a climactic fight scene. In a controversial move, Robert Clouse finished the film using a look-alike and archive footage of Lee from his other films and released it in 1978 with a new storyline and cast. However, the cobbled-together film contained only 15 minutes of actual footage of Lee while the rest had a Lee lookalike, Tai Chung Kim, and Yuen Biao as stunt doubles. The unused footage Lee had filmed was recovered 22 years later and included in the documentary Bruce Lee: A Warrior's Journey.
출처: http://www.hereischina.com/