Great Grandmaster Byung In Yoon
(1920 - 1983)
Mr. Yoon learned Chuan Fa in Manchuria, China in the 1930's. In 1937 he went to Japan to be educated at Nihon University. While at the University he participated in an exchange with Toyama Kanken where Mr. Yoon received rank in Shudokon. After World War II, Mr. Yoon taught Kwon Bup in Korea until the Korean War. It was during the Korean war that Mr. Yoon became a POW. He was unable to return to South Korea and remained in North Korea until his death in 1983.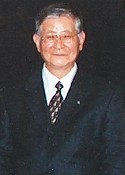 Great Grandmaster Chul Hee Park
(1933 - )
As a youth Mr. Park became a student of Byung In Yoon in Korea in 1946. After Mr. Yoon disappeared during the Korean War, Mr. Park continued to teach Kwon Bup along with Jung Pyo Hong. About 1954, Mr. Park and Mr. Hong founded a new Kwan, which Mr. Park named Kang Duk Won (School of Virtue). Mr. Park continues to teach Kang Duk Won Kwon Bup to this day. During one of his visits to the United States in November of 2001, Mr. Park was an honored visitor to the Kang Duk Won dojang in Muskegon.